Saturday, June 21, 2008
Why did the young people vote No?
I see a lot of people have been discussing the poor campaign put forward by the Yes side for the Lisbon Treaty on the back of

new research

which shows a majority of voters, including a majority of those who voted in favour, found the No campaign more convincing.RTE report that 68% of all voters, and 57% of those who voted Yes, thought the No campaign was stronger. The results were from a Eurobarometer telephone poll of 2,000 adults.What I found particularly interesting though was the fact that the poll found 65% of young people aged 18 to 24 were more likely to have voted No.Hmm, I wonder why that is? I mean it's hard to believe the Yes side lost considering they put forward such intelligent ads like these...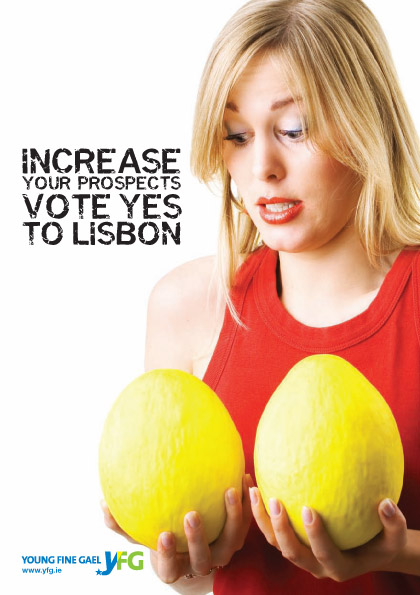 Strange that such thought-provoking advertisements didn't resonate with the young folk of the country. I mean we're being told that many No voters voted the way they did because they didn't know what the Treaty was about, and clearly these ads endeavoured to educate and inform the public in a frank, straightforward and mature manner. Where did it all go wrong then?

Anyone?
© 2008 United Irelander.