Tuesday, February 26, 2008
No to the Lisbon Treaty!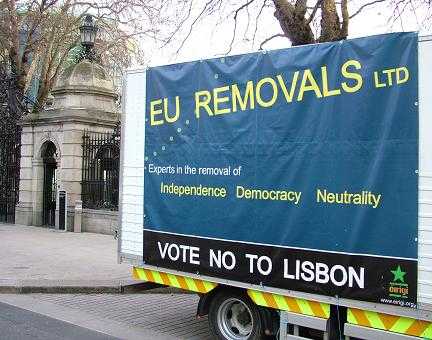 I am deeply troubled by the Lisbon Treaty and the idea of the people of this country endorsing such a wicked treaty. This document is essentially the EU Constitution under a new name, a fact that has been spelled out by our own Taoiseach Bertie Ahern.

The Constitution, rejected by French and Dutch voters, spells bad news for many nation-states within the EU, and certainly Ireland. Our neighbours across the water in Britain were denied a vote on this despicable document by Gordon Brown because he knows full well the British would tell the bureaucrats where they can stick their irredentist plans.

Luckily for Ireland we have a constitutional obligation to have a referendum for anything which changes or amends our own constitution. Make no mistake about it, this treaty changes our constitution in a major way.

The treaty removes Irish decision-making in around 50 policy areas, gives the EU a right to conclude treaties and agreements over the heads of member states like ourselves and, worryingly, reduces the voting strength of the Irish state.

Is this what the founding fathers of this state died for? To watch so-called 'republicans' in Fianna Fáil giving AWAY power from the Republic of Ireland?

Did we really spend all that time trying to leave a Union that didn't care about our wishes only to go and join another Union that won't care about our wishes?

Ignore the disgraceful scaremongering tactics of men like Minister of State for European Affairs Dick Roche talking about how a 'No' vote would affect our standing within the EU. This is baloney. Are we expected to believe the EU would get tough with us alone when France and Holland previously rejected the EU Constitution and not a peep was said against them? Don't insult us Mr Roche with your garbage warnings.

I believe, and I am not exaggerating here, that this vote is one of the most significant moments in Irish history because, if endorsed by the Irish people, it will help centralise power in Brussels and leads us down the road to a federalist European Superstate.

If, like me, you vehemently oppose such a thing, then take the time to read up on the Constitution and prepare to vote NO to the EU Constitution/Lisbon Treaty.

Over the next few weeks and months I intend to write a lot about this vile treaty which threatens our sovereignty and I hope to have some interviews with campaigners. It's time to put a stop to this treaty once and for all.

You can read more about the dangers of the treaty

here

.
© 2008 United Irelander.