Tuesday, December 06, 2005
Top Ten Tuesday - Miss World girls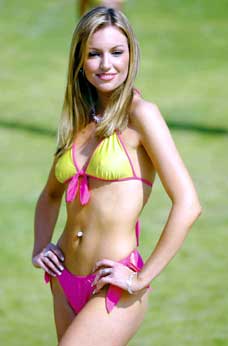 As I indicated in my post on feminism yesterday, I'm a big fan of women and women's rights. In fact, I like women so much...I'm going to rank them in order of attractiveness. How great is that?!This lovely lady to your left is Ireland's very own Rosanna Davidson who won the Miss World contest in 2003. I'm pretty sure that was the only thing an Irish person won that year so fair play to her.Doesn't she look lovely altogether? I know what you're thinking. You're thinking along the lines of Father Jack aren't you?"More water!"Well I know that's what I was thinking. And since I'm thinking along those lines it's time for me to come up with a list of the top ten Miss World contestants! Thumbnails of contestants can be seen
here
, and further information can be found
here
.So without further ado I give you the top ten Miss World contestants:1.
Miss Switzerland
- This contest is over. This lady has it won. What a beauty! Wow! Apparently her motto is "Be natural". Hey, around you darlin' I'd be natural all the time! 2.
Miss Iceland
- I'd do my best to keep this girl from Iceland warm! She has a great smile and just looks so...cute. Her favourite motto is "You are what you do". Hmm...3.
Miss Denmark
- A very cute blonde! She's quite young though but hey, I'm not ageist!4.
Miss Holland
- This girl from the Netherlands looks alot like Helen Hunt, who I find very sexy! Apparently one of her interests is the 'body pump'. If that means what I think it means, she's my kind of lady!5.
Miss Puerto Rico
- Maybe it's the red hair but she comes across as a fiery little minx! Apparently she loves to do the belly dance. And I'd love to see it!6.
Miss New Zealand
- Wow I just checked her picture again and I'm wondering if I should bump her up a few more places. This girl is hot! Her personal motto is "Can't is not an option". That's what I need, a girl who has a positive outlook like me. Hey quit laughing!7.
Miss Scotland
- This beautiful wee lass reminds me of ITV presenter Gabby Yorath with that enchanting smile! Her name's Aisling and she likes Celtic dancing so she's alright in my book!8.
Miss Northern Ireland
- Sporting the very common Northern surname 'Evangelista', Lucy here is a fine-looking young woman and looks great in lingerie! We'd probably have a fiery relationship too. If we ever got into an argument I could refer to her as 'Miss occupied six counties'. Apparently though Lucy has worked with tribes in Kenya so she should be well able for the tribal aspects of Irish politics.9.
Miss Australia
- Here's a very sexy blonde. I wouldn't mind going down under with her. You heard me!10.
Miss Ireland
- Ireland's entry, Aoife Mary Cogan, is a great looking girl but I must admit I can't see her claiming the prize. She could claim me though quite easily! She's from Castleknock however but hey, nobody's perfect!So there you have it. The top ten Miss World contestants. Feel free to comment on my choices or to offer up your own.When I did a top ten list on the Rose of Tralee some months back I correctly picked the Mayo Rose to win and I think it will be a travesty if the Swiss girl doesn't win this competititon. What a sexy lady!Switzerland for the win!
© 2008 United Irelander.